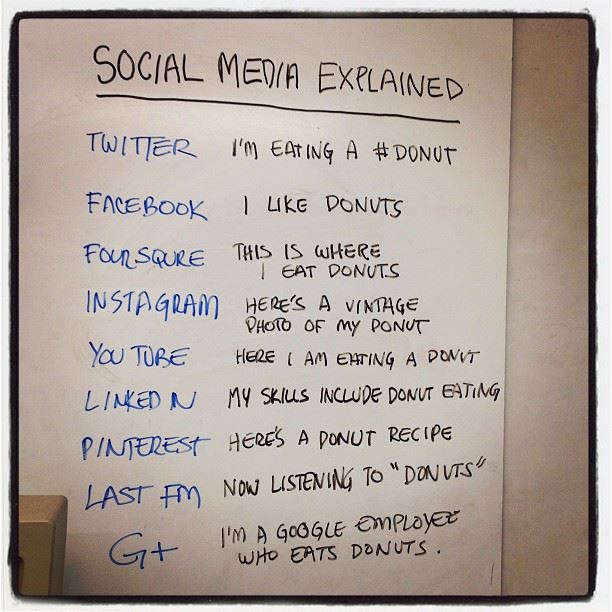 The graphic "Social Media Explained" provides a great tongue-in-cheek explanation of the communication options available to us–a list that is growing each day.
Each of these services provide an amazing stage communication and interactivity with varying audiences and reaches; however, they focus on the message, not the action.
That's where Tracky shines.
Tracky is not only a social media tool for communication, but an open social collaboration platform focused on the art of DOing and helping you to be the best DOer you can be.
While Facebook and Twitter are telling and Instagram is showing your donut explorations, none of them help you and your friends take action–to make a donut. Tracky does.
With Tracky, you start your pastry adventure with "Let's make a donut!" and we help keep you and your sous chefs (or friends, teammates, ) on track throughout the whole process (don't worry, we won't get into a cake vs. yeast donut battle).
Once you've created your tasty treat and are ready to proclaim "I'm eating a donut that we made!", you're ready to share your success with the world (or where free donut tastings will be held). As mentioned earlier, the telling and showing are very important and we help you with that too. Tracky integrates with several social media platforms and allows you to easily share your accomplishments.
All of your hard work is saved in Tracky, so next time the idea for donut making (or any great idea) comes up, your track, your team, and Tracky will be there with all the information, resources, and collaboration you used the first time—ready to start DOing again!
For more information on using Tracky and sharing your success, check out our FAQs and the Tracky Training Center.